Take Your Skills To The Next Level
Join Lee County Strikers and develop your soccer skills under the guidance of FGCU college coaches.
Kick-start your soccer season with Lee County Strikers.
We provide players of all ages and abilities the opportunity to play soccer in a safe, fun, and supportive environment. Our goal is to create an enjoyable experience for everyone involved, from seasoned ballers to brand-new players. We offer recreational leagues and competitive teams so everyone can get the most out of their soccer experience!
Unlock your child's potential with FGCU coaches.
Give your child the competitive edge they need with our experienced Florida Gulf Coast University coaches. Our staff will help unlock their potential, develop their skills and ensure they have a great soccer experience!
Develop your soccer skills.
Ready to take your soccer game to the next level? Join Lee County Strikers and learn how to play the right way. Our expert coaches will guide you through drills and techniques so you can become a better player in no time.
Join your supportive soccer community.
Join a soccer community that values its members and their development. Become part of our dynamic, competitive club and be part of a positive environment focusing on friendship, growth, and success.
Learn And Enjoy The Game With Friends
With your Rec Program, your child can learn and play soccer in a safe, fun environment.
Developing soccer skills through fun and safe play.
Give your child the opportunity to learn and enjoy the game of soccer in a positive environment. Our program focuses on participation, fun, and teamwork while also helping kids to develop their coordination and skills. Our parent coaches will ensure your child has an enjoyable experience while learning the fundamentals of this great sport.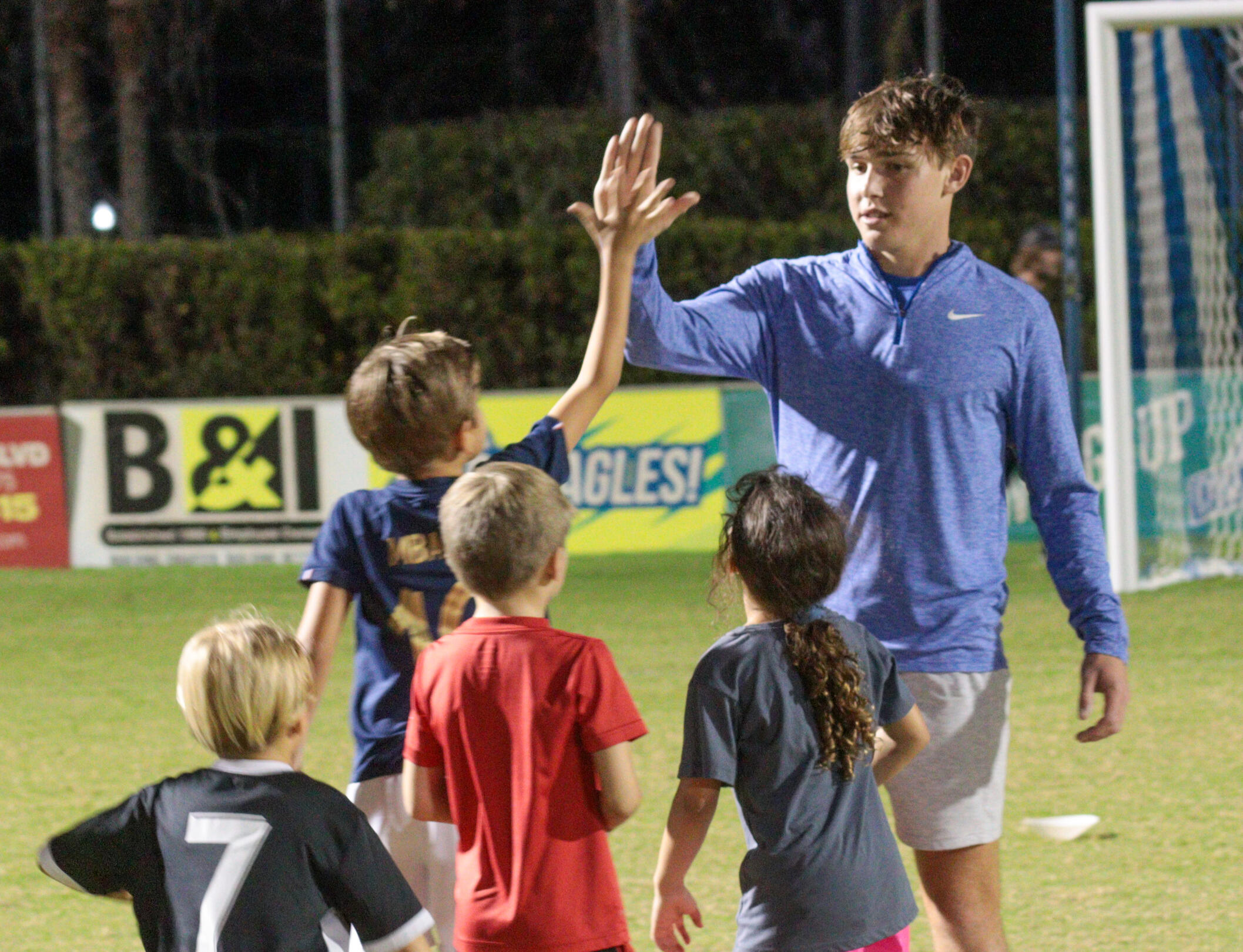 Kick off the season with college players.
Take your child's soccer experience up a notch! On opening night at FGCU, give them a chance to meet and learn from college players. Join us for Opening Night at FGCU on February 1!
Instill a love for the game.
Soccer is more than just a sport; it is an experience. Give your child the opportunity to learn, enjoy, and grow their love for the game with Lee County Strikers. With regular practices and games, as well as coaching and instruction, they will develop their coordination, teamwork skills and—most importantly—have fun!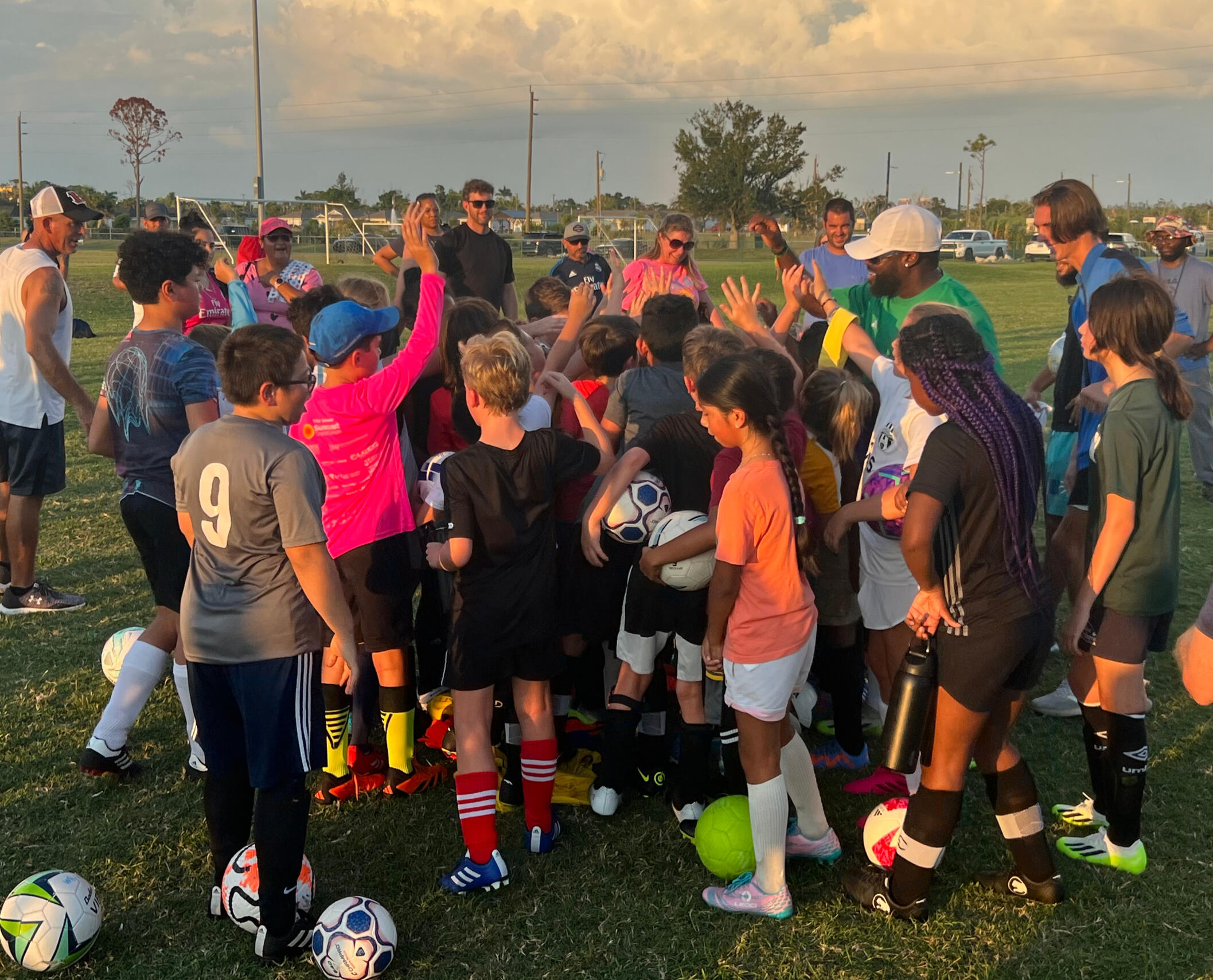 Join your supportive soccer community.
Lee County Strikers is a supportive community that cares about its members. You'll be part of a great environment that promotes fun, friendship, and skill development, from the coaches to the players and everyone involved.
Winter Season
Lee County Strikers 2023
Rec League SoccerBirth Year: 2011-2017
Start Date: February 1
Opening Night At FGCU Soccer Complex
End Date: March 17
$130
---
More Info
Develop Your Technical Skills
With your Academy Program, your child can learn from experienced coaches and take their game to the next level
Develop your technical soccer skills and improve your speed of play.
Soccer players at this age are at a crucial stage in their development. Players are still developing physically and mentally, and their technical skills are not fully formed yet. This is when players need to focus on mastering the basic techniques of the game, such as dribbling, passing, shooting, and ball control. This is the foundation for their future progress as soccer players.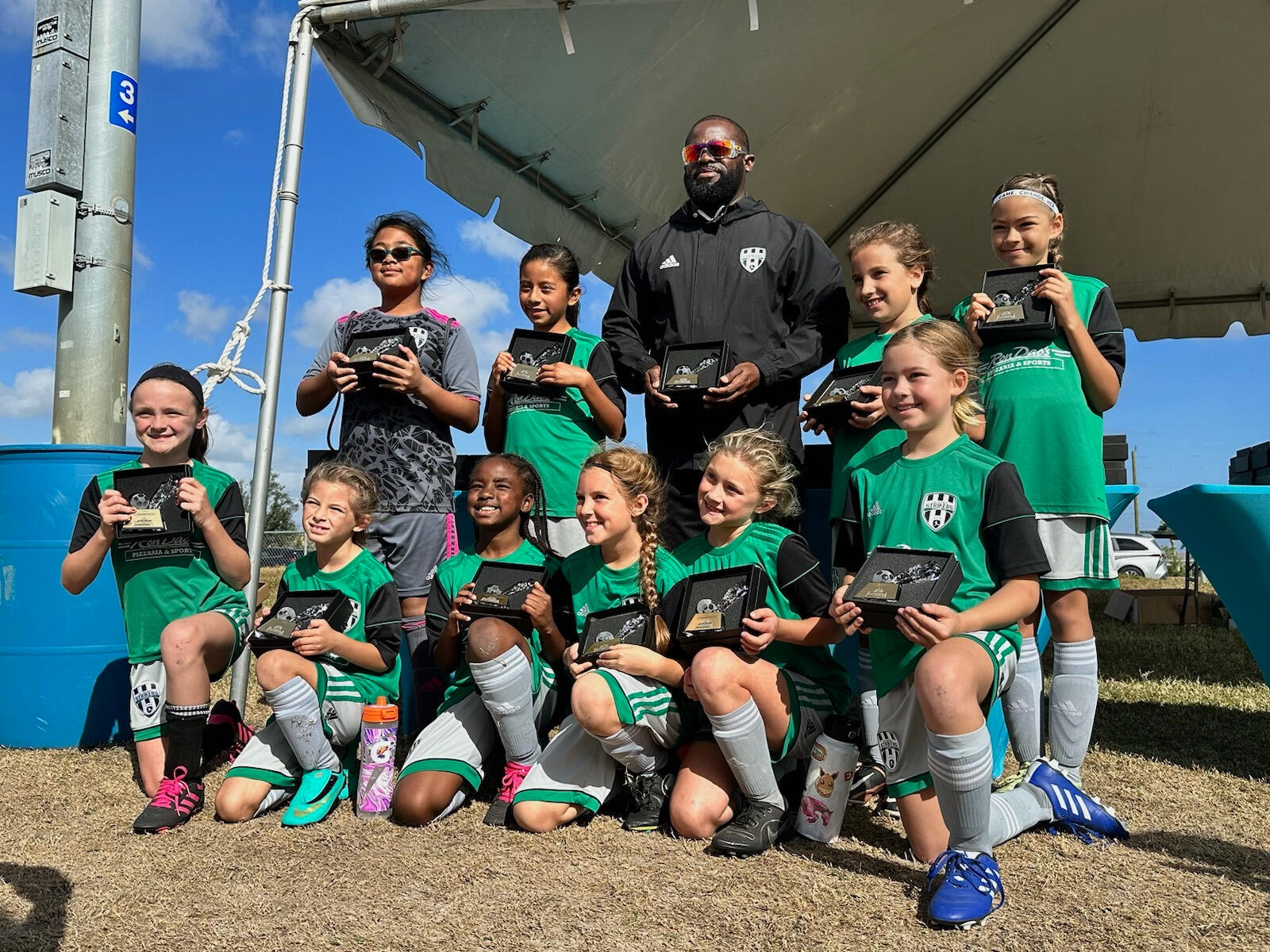 Making an impact
2011 Boys - Coached by Duane Laifang
"These guys have worked so hard and come so far in their skills this season and I'm so proud of them! My son's first official competitive soccer season is done, and it's been intense for him to practice twice a week and have games all weekend, but the commitment and reward at the end were so worth it. I always wondered how soccer families become so invested in giving their weekends and late-night weekdays for practice and travel games but watching your kid learn that hard work and dedication can pay off is a really epic thing."Amber Cebull
Lee County Strikers Academy Soccer 2022-2023
U11-U12$845
August Thru May
Become A Complete Player
With a focus on developing each player to their fullest potential, your Competitive Program is the perfect entry into higher competitive soccer.
Take your soccer skills to the next level.
Your Competitive Program helps your child test and improve their skills against solid competition. Playing against better players can help them raise their game's level. Additionally, it allows your child to play in a more structured and intense environment, which can better prepare them for the demands of higher levels of play, such as college or professional soccer.
Striker Spotlight - Vinny Paluck 05
A Striker from 4 to 18 years old, Vinny Paluck has been a true inspiration for all of us. He embodies all we strive for in our players: heart, desire, coachability, work ethic, and a great team player. As Vinny completes his last Strikers' season and embarks on his college recruiting journey, we are proud to share his highlight video. Please support this remarkable young athlete on his soccer journey!
---
Lee County Strikers Competitive Soccer 2022-2023
U13-U19$995
August Thru May
Get Elite Soccer Training In SWFL
With experienced coaches and an unwavering commitment to each player, we'll help you reach your maximum soccer potential.
Your Team
Your coaches have the knowledge, skills, and ability to help your child improve their performance, provide guidance and feedback, create a positive and challenging environment, and help to recognize and nurture young talent. They are here because they care and want to share their love of the game.
Jesse Cormier
President
Division 1 Head Coach, 20+ years,
FGCU (current), University of Vermont
All-time wins leader (UVM)
12 MLS Draft picks, 52 players signed professionally
Played professionally, in England (Oxford United) and the USA (Connecticut Wolves)
Philosophy/Methodology academy study (Manchester City, FC Barcelona, Real Madrid, Espanyol, Sporting Gijon, Sheffield United)
Founder/Owner Gulf Coast Futbol Academy (current)
Founder/Owner Vermont Futbol Academy
Executive Director BWP-Burlington, Director of Coaching Nordic Soccer club
USSF B license, Advanced National Diploma
Sheldon "Cip" Cipriani
Director of Coaching
Florida Gulf Coast University - Associate Head Coach
Former USL Professional Coach at VSI Tampa FC
Former VSI U-23 Team Head Coach
Former PDL Head Coach
Former Florida Rush Development Academy Director
2015 ASUN Conference and Tournament Champion
2015 NCAA D-1 Tournament Appearance
Former PDL Coach at Ocala Stampede
Former Member of the Trinidad and Tobago Senior Men's National Team
FYSA Instructional Staff
Former Professional Player
USSF 'A' Licensed Coach.
Andre Nesfield
Asst Director of Coaching, Director Girls Program, Camp Director
Bio coming soonTeams: 2005 Boys, 2011 Girls, 2012-2013 Girls
Basil Spaulding
Coach Basil grew up playing soccer in Jamaica. 4-year varsity player for Oracabessa High School in Jamaica. Played for the U16 Jamaica National Team.
Played Division II in Jamaica for Star Cosmos. Played with Genesis semi-pro in Haitian Cup 2001- 2006.Competitive Head Coach in SWFL since 2010Teams: 2009 Boys, 2006 Girls
Tye Cole
Tye grew up outside of Nashville, TN playing NCAA soccer with Lee University (3rd Nationally) and later with Belmont University. Upon moving to SW Florida in the late 90's, Tye launched his coaching career in 1999 at the grassroots level. Teams under his direction would reach achievements including several state titles, US Regional Champions, and a National Final-Four appearance. In 2016, Tye served as Head Coach of Palm City FC, a semi-professional team in the WPSL. Subsequently, in 2017, Tye was recruited by the New York Red Bulls to train, coach, and scout within their Academy System covering New York and New Jersey. Tye also served as a staff coach within Florida's Olympic Development Program (ODP). Tye has a USC Premier License, USC Director of Coaching license, USSF C, and a Bachelor's degree in Theology.Team: 2010 Girls
Peter Thomas
FGCU Assistant CoachComplete bio coming soonTeam: 2008 Boys
Duane Laifang
bio coming soonTeams: 2011, 2012 Boys
Wyatt Kistner
GK Director
FGCU KeeperComplete bio coming soon
Welcome coach Phanos Lazarides!
Be sure to welcome Phanos to the team when you see him. Phanos has had a massive impact on the FGCU soccer program. As a past captain and recent graduate, he is embarking on the next phase of his soccer journey. Phanos specializes in Sports Science and Athlete Performance and excels in building team unity.Phanos will coach the 2007 Boys and the 2010 Boys.